We have researched food for our dogs and puppies! We are absolutely confident that Life's Abundance is the best choice for Cavalier King Charles Spaniel puppies and adults!

We choose to feed Life's Abundance to our puppies as it gives them the VERY best beginnings and carries on throughout life. Their coats are exceptional along with many other benefits.
Visit www.petneedstore.com to order

Vitamin supplements are of vital importance for your Cavalier King Charles Spaniel. They love them and they are prolonging their life, we all win!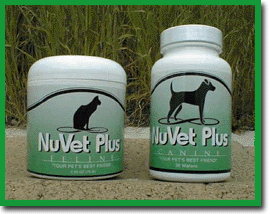 You can call NuVet to order at 1-800-474-7044 8:00 a.m. to 6:00 p.m. Pacific Time Order Code 25910.

All of our Cavalier King Charles Spaniel puppies and adults get NuVet Plus Canine Supplements. We encourage that you continue giving puppies the supplement when they leave our home. We think this is important due to the fact that we cannot control the type of dog food you are feeding and environmental issues and differences within each home and yard that are the cause of many allergies, coat and skin problems. We recommend that your dog be maintained on NuVet Plus Canine. You can call NuVet to order at 1-800-474-7044 8:00 a.m. to 6:00 p.m. Pacific Time Order Code 25910. A 6-day supply will be included in the care packet that Buyer receives with the puppy. Pleasant Valley Cavaliers receives a report each month listing the names of owners that have purchased NuVet plus Canine, so please remember to use order code 25910. (This code is unique to Pleasant Valley Cavaliers) This additional 6 month Health Guarantee will be NULL & VOID in all States if you the Buyer does not continue to supplement with NuVet Plus.

Major considerations in formulating NuVet Plus™ were the human grade quality of ingredients and their nutritional values, as well as the bio digestibility and utilization into the cellular framework. We also considered the chemicals and toxins that find their way into our animals' food. NuVet Plus™ was formulated to combat these harmful pollutants. NuVet Labs™ has designed a cutting edge formula that we believe will help increase your pets longevity and quality of life. Our scientists performed extensive research and experiments with a variety of vitamins, minerals, enzymes and herbs, until they created NuVet Plus™, which provides a powerful synergistic defense against the harm caused by free radicals.